Which hosting type I need? 4 main service types
Domain names and hosting industry today provides a great variety of ways to express yourself. Hosting is required for almost any project and we will look through 4 main types of the service below.
Shared Hosting
Shared hosting is usually the cheapest fully operational package available (some providers offer free solutions, but as they are usually very limited and we will not discuss them). The main idea is that all resources of the server (CPU time, bandwidth, memory, disk space, etc.) are divided or shared between many end users (hosting packages).
As a result, one OS operates many websites; users are given convenient control panel for managing their hosting packages and have equal rights for doing that, as they share all the server resources. However, there is a possibility your available resources are not sufficient to hold the peak load. But traffic volume limits are usually big and rarely reached. To sum it all up, the pros are:
·         low cost, as the price of renting a server is shared with the others
·         highly adaptive and convenient software you receive ready to use
·         email service is usually included and domain sometimes comes with the package
·         no technical background is needed
·         always comes with control panel
·         qualified support 24\7
The nearly only cons are:
·         limited resources, though they are not exceeded too often,
·         inability to change software options, like control panel or OS.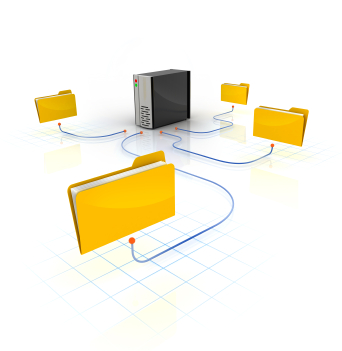 Shared hosting is a perfect solution for small or average businesses, as it provides reliable Internet presence, is cost-effective and easy in use. We offer shared hosting packages of 4 types and are able to satisfy any request of that kind.
Dedicated Server
Whoever needs all of the server resources and has enough funds to hire an entire server, orders a dedicated server solution. In this case, the whole server machine will be working for your hosting package alone.
This costs much more than shared package, but some websites need that much power, so dedicated servers are cost-effective. You can either buy company's equipment (dedication) or place your own hardware in the company's datacenter (colocation) so it is maintained in the best conditions and by skilled professionals.
To say more, most companies provide a possibility of adjusting your server specs, so you can get exactly the machine you need. The pros are:
·         all server resources are available to a single user
·         ability to maintain big number of domain and email services
·         serves best for big businesses with huge data traffic
·         you can choose the software yourself and setup it the way you want
·         you can adjust specs the way you need during the purchase and later on
The cons of dedicated servers are:
·         very high price
·         advanced technical knowledge is required for setup and maintenance
Virtual Private Server (VPS)
A mixed combination of shared hosting and dedicated server, this solution offers greater possibilities as compared to the shared one, yet is less expensive than the full dedicated server.
The server is still divided between several users, but their number is limited, so the amount of resources for every single user is bigger. The main advantage is the possibility for each user to order a different pre-setup OS, so each user has his own virtual server, despite all of them are located on a single hardware.
The pros of this method are:
·         ability to setup any software the way you like, up to changing the OS
·         fixed amount of them attached to each user
·         all changes up to a full restart are easily done when needed
·         as every OS is separate, any setup changes never affect other users
The cons of this type of hosting are:
·         higher price
·         limited resources
·         deep technical knowledge is needed, as running a wrong script can damage multiple users
Cloud Hosting
Cloud hosting is the most recent add-on to the market and its popularity is steadily growing. This hosting type uses multiple servers in multiple datacenters to operate your web enterprise. The price is high, but it is the most reliable way of serving big data traffic, as it can be rerouted to another cluster of servers during peak load or DDoS attack.
Companies like Google or Facebook, able to pay its costs and demanding high reliability of their data traffic mostly use it. The idea of using cloud resources for multiple purposes and quickly adjusting and reallocating them to the projects that demand it most offers a huge advantage to big companies and corporations, as they make the best use of the equipment.
The pros of the cloud technology are:
·         the most cost-effective server resource management
·         ability to adjust and reallocate the resources between multiple projects
·         as data is backed up by multiple servers it is operated faster
·         increased stability and reliability of the service
The few cons include:
·         huge expenses, though lower than buying dedicated servers
·         highly skilled team of IT specialists is required to run such projects
·         increased alert of viral infection, as many servers are constantly exchanging data
The choice is up to you!
When choosing the type of hosting services you need your primary task is estimating the amount of resources you are going to need.
Are you planning to run a single website with several pages and approximately 100 visitors daily? Shared hosting is the perfect solution!
Are you going to launch an online radio station? VPS would suit you best.
Anyone needs a reliable service to host data for a big enterprise? Dedicated server will help you in solving all of the tasks.
Is your corporation going global and faces big amounts of data daily? Cloud hosting will help you in reaching the top!
Start your way to success with us and use all the possibilities reliable hosting service offers! Subscribe to stay tuned for our latest updates and news!